If RWU planeswalker lockdown can be All-American Control, why shouldn't RW aggro be Singapore Sligh? Deckbuilding just got patriotic.





Singapore Sling

5 Mountain
9 Plains
4 Clifftop Retreat
4 Isolated Chapel

4 Doomed Traveler
4 Champion of the Parish
4 Gather the Townsfolk
3 Lingering Souls
3 Midnight Haunting
4 Hellrider

1 Gut Shot
1 Shock
2 Incinerate
3 Intangible Virtue
3 Brimstone Volley
2 Oblivion Ring
4 Rally the Peasants


(The link in the title leads to TappedOut.net, a great deckbuilding resource that automatically links card images and generates statistics for your deck. For your convenience, I went back and retroactively added TappedOut links to all my previous deck posts.)

For a long time, I've wanted to build a red-white deck and name it after my home country. Not because I love it that much, but simply because it would be funny. I've theorycrafted and pored over decklists for months, but this is the first deck powerful enough for me to call complete. The first deck worthy of the name "Singapore Sling."

To understand why this deck is awesome, we first have to understand the Magic: the Gathering metagame. At this time of writing, it's been five months since Innistrad first hit game-store shelves; deck tech has been tried and proven, synergies have been put to the test at the tournament tables, and the metagame is basically set in stone. It's part of the natural life cycle of any format. But now that the boundaries of the format have been defined, now that we know what all the best decks are made up of, the field has become relatively predictable.

This isn't to say that there is no more room for originality. My rogue decks show you can't be too complacent when you prepare for a tournament, and some troll will probably be playing an oddball Tree of Redemption/Feed the Pack deck (cough cough) but for the most part, you can tell what someone is playing from the first few cards that leave his hand. Mountain, Furnace Scamp? You're playing against Red Deck Wins, a mono-red aggro deck that hits fast and hard. Darkslick Shores, Delver of Secrets? It's Spirit Delver, a white-blue-black deck centered around small, flying, untargetable creatures. Razorverge Thicket, Birds of Paradise? Probably BGW Birthing Pod, a deck using the titular artifact to sacrifice its creatures and manufacture bigger and badder threats. This effect is even more pronounced in SOM-DKA Standard, because the presence of werewolves and powerful one-mana beatsticks like Delver force every deck to have a first-turn play.

When you sit down to play against a stranger, whether in a casual or competitive setting, they know absolutely nothing about you. They don't know what deck you're playing, what strategies you tend to employ, and whether you're good at bluffing or not. Most importantly, they don't know what strategy they should adopt against you – whether they should play aggressively or defensively, whether they should keep a counterspell-filled hand or ditch it for one with more threats to play. This means that any tell you give them, even if it's the most minor of details like what land you drop on your first turn, is a vital clue. This is the tendency that Singapore Summer exploits.

Singapore Sling looks very similar to a popular deck called White-Black Tokens. Based on vomiting a huge pile of tiny creatures onto the table and powering them up with global enchantments like Intangible Virtue, it overwhelms its opponents with sheer numbers. The two decks share many of the same cards, right down to all of the creature token-making cards that give WB Tokens its name, but the best part is that Singapore Summer is a completely different kind of deck. WB Tokens wants to dominate the board and then win from there, but Singapore Sling is a white-based twist on the classic Red Deck Wins strategy. It's affected much less by board-clearing effects like Day of Judgment which are the bane of WB Tokens, and the red splash brings one-shot blowout effects like Hellrider and Brimstone Volley that can win the game even if I have no way to attack.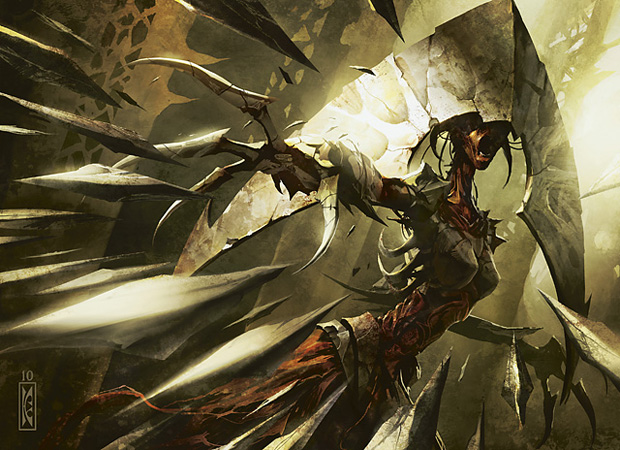 "Attack with three tokens. You're dead if you don't respond."
"Is it New Year already? Because this Marrow Shards is gonna do some spring cleaning."
"Fine, all my creatures die."
"Good game?"
"Not so fast, bucko. Play a Mountain post-combat, Brimstone Volley the mug for lethal damage."
"FFFFFFFFFFUUUUUUU–"

Assumptions are dangerous things. 99% of the time, you're spot on and your opponent really is playing WB Tokens. He really is playing four copies of Lingering Souls and Intangible Virtue, and he has a Sorin, Lord of Innistrad waiting in his hand. But 1% of the time – just that one percent – your assumption turns around and bites you in the rump. That's Singapore Sling. That's Magic.

~